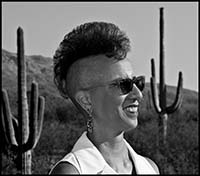 Toastmaster ~ Linda D. Addison
Linda is the second oldest of ten children and grew up in Philadelphia where she graduated from Germantown High School. Her childhood memories include evenings listening to her mother tell stories she created using the children as characters or watching scary movies with her mother at night.
From the first moment she held a book in her hands in kindergarten Ms. Addison knew she wanted to make one of her own. She even now finds cruising a bookstore is as relaxing as drinking a fine glass of wine.
She graduated from Carnegie-Mellon University with a B.S. in Mathematics and currently lives in Arizona.
Linda is a founding member of a writing group, Circles In The Hair (CITH) which started meeting in 1990. She is poetry editor for Space & Time magazine. Her work has made frequent appearances over the years on the honorable mention list for Year's Best Fantasy and Horror (edited by Ellen Datlow, Kelly Link and Gavin Grant) and Year's Best Science-Fiction (edited by Gardner Dozois).
In 2001, Addison was the first African-American to win the HWA's Bram Stoker Award(R) for superior achievement in poetry for Consumed, Reduced to Beautiful Grey Ashes (Space & Time Books). She has received three additional awards for her collections: The Four Elements written with Marge Simon, Rain Graves and Charlee Jacob (2013 Bad Moon Books); How To Recognize A Demon Has Become Your Friend short stories and poetry collection (2011 Necon E-Books); and Being Full of Light, Insubstantial (2007 Space & Time Books). Dark Duet (Necon E-Books), a collaborative book of poetry written with Stephen M. Wilson was a 2012 HWA Bram Stoker finalist. Other prominent recipients of this distinguished award include authors, Alice Sebold (Lovely Bones) and J.K. Rowling (Harry Potter Series).
Her collection, Consumed, Reduced to Beautiful Grey Ashes, was also nominated for the Black Writers Alliance Gold Pen Award. Selected poems are on the Honorable Mention list for Year's Best Fantasy & Horror and were nominated for a SFPA Rhysling award.
Linda D. Addison is the only author with fiction in three landmark anthologies that celebrate African-American speculative writers: the award-winning anthology Dark Matter: A Century of Speculative Fiction (Warner Aspect), Dark Dreams I and II (Kensington), and Dark Thirst (Pocket Book).
She co-edited Sycorax's Daughters, an anthology of horror fiction & poetry by African-American women (publisher Cedar Grove Publishing) with Kinitra Brooks and Susana Morris.
She has over 300 poems and short stories in print. She has published in Essence Magazine, Asimov's SF Magazine, Eye to the Telescope magazine, Apex Magazine, Spectral Realms and Carpe Noctem. She is a founding member of the writer's group Circles in the Hair (CITH) and a member of SFWA, HWA and SFPA.
Photo by Stu Jenks