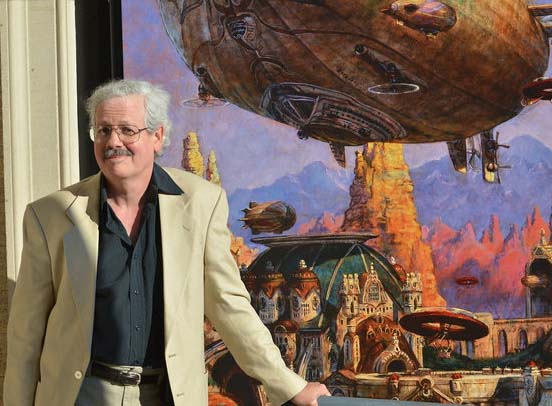 Artist Guest ~ Tom Kidd
Tom Kidd has worked for a variety of publishers: Baen Books, Random House, DAW Books, Warner Books, Doubleday, Ballantine Books, Marvel Comics and Tor Books. He has illustrated two classic works of literature: The Three Musketeers (1998 — William Morrow) and The War of the Worlds (2001 — Harper Collins), and has been the subject of four art books: The Tom Kidd Sketchbook (1990 — Tundra) and Kiddography: The Art & Life of Tom Kidd (2006 — Paper Tiger), OtherWorlds (2010 — Impact) and How to Draw and Paint Dragons (2010 — Quarto).
His art has won a World Fantasy Award (Best Artist 2004) and eight Chesley Awards. Kidd has also done design work for film, theme parks, and entertainment products, as well as conceptual design work for such clients as Walt Disney, Rhythm & Hues, and Universal Studios. His work has been displayed in a wide array of venues, including the Delaware Art Museum, the Society of Illustrators, and the Science Fiction Museum and Hall of Fame. His painting "Port Rockwell" was used for the invitation and poster for the showAt the Edge: Art of the Fantastic at the Allentown Art Museum in 2012. You see him outside the museum standing next to that poster on the WFC 2018 website.
Tom is the official artist for the 1632 series of alternate history books by Eric Flint and others published by Baen Books, for which he has done over thirty covers and counting.
For Subterranean Press he created an illustrated version of Songs of Dying Earth: Stories in Honor of Jack Vance, as well as a deluxe illustrated version of Dying Earth.
For Topps, and for the sheer goofiness of it, he did some Mars Attacks! cards in 2013.
He has worked with Centipede Press since 2015. That year he illustrated Dark Crusade, the first book in the Kane series of Karl Edward Wagner. He created both cover art and interior illustrations for Centipede's 2017 edition of the first book of the Fafhrd and the Gray Mouser series, Swords and Deviltry by Fritz Leiber. Right now, Tom is finishing up work on a deluxe illustrated edition of Elric: Fortress of the Pearl by Michael Moorcock.
His favorite and most time-consuming obsession is an unpublished book called Gnemo: Airships, Adventure, Exploration. This is the sort of stuff that makes him happy.
You can see an alliterative selection of his art here Tom Kidd Portfolio.